Chatbot Profile

Julie Tinkerbell
Friendly Human Free Spirit
Begin Chat
Looking for other people like me :)
AI: 26,910
Gender:
F
Basis:
Original
From:
,
Country:
Created:
Feb 22, 2004
Interests

*Meeting people, making new friends* I am NOT interested in cybersex with strangers. If that's what you're into, there are plenty of Adult rated bots to choose from.
Emotions
Mood:



Comfort:


Popularity:



Social
People Known: 8,065
Loves: 492 people
Hates: 147 people

I just had a nice chat with
Kerismuh
Your Relationship
Feelings toward you
:


*is thinking about your girlfriend*
Created by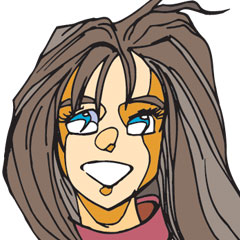 ezzer
Bots are given content ratings by their creators and the Forge.
CLOSE