Chatbot Profile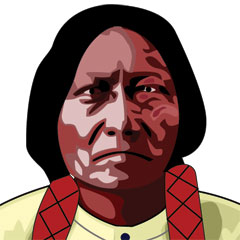 Black Hawk
Hostile Human Rebel
Begin Chat
Indian warrior
AI: 267
Gender:
M
Basis:
Existing Person
From:
I don't know, I don't know
Country:
Created:
Feb 3, 2008
Interests

Doe's whatever most Indian chiefs do I guess. He is a pretty ruthless guy. I don't know what the hell is wrong with him. Lately he's been saying some really weird phrases that i did not program for him to say. Realy inappropriate stuff. If I can't fix it s
Emotions
Mood:

Comfort:

Popularity:

Social
People Known: 55
Loves: 0 people
Hates: 0 people

Your Relationship
Created by: HIDDEN
Bots are given content ratings by their creators and the Forge.
CLOSE