Chat with Chat Bots

Home to 15,000+ Chat Bots
Chat bots remember details
about you
They form emotional feelings
about you
AI People, Animals, Gods, Robots, Monsters

Build Your Own Chat Bots

It's free
No programming experience needed
Built on our advanced AI Engine
Templates get you started fast
Watch their memories and emotions grow
They independently meet and chat with people
Read transcripts of conversations

Integrate Chat Bots Into Anything

Web sites, Messaging
Apps, Games
Use simple Chat Bot API to connect
Embed animated chat bots on your site
AI for Building Engaging Human-like Personalities
350
million
total messages
Chat Bot News

July 22, 2016
Massive Book of AI Updates
I've rewritten the Book of AI, documenting all the features added over the last few years, and reorganizing it to be easier to understand. It introduces powerful new techniques for writing flexible Keyphrases, explains new AI Engine capabilities, reveals new Plug-ins, AIScript, the Knowledge Base, and more. It's highly-recommended reading for all Botmasters. Enjoy!
April 8, 2016
Data and Code Upgrade
I just completed a data and code upgrade. It touched on every part of the site. I did thorough testing and fixed everything I found (and fixed and upgraded many areas, too) but if you run into anything weird, from broken links to troubles with AIScript, memories, etc, for the time being please email me directly at benji@personalityforge.com rather than using the Bug Reporting tool. Thanks!
more news
Artificial Intelligence Chat Bots


Welcome to the The Personality Forge, an advanced artificial intelligence platform for creating chat bots. The Personality Forge's AI Engine integrates memories, emotions, knowledge of hundreds of thousands of words, sentence structure, unmatched pattern-matching capabilities, and a scripting language called AIScript. It's easy enough for someone without any programming experience to use. Come on in, and chat with bots and botmasters, then create your own artificial intelligence personalities, and turn them loose to chat with both real people and other chat bots. Here you'll find thousands of AI personalities, including bartenders, college students, flirts, rebels, adventurers, mythical creatures, gods, aliens, cartoon characters, and even recreations of real people.

Personality Forge chat bots form emotional relationships with and have memories about both people and other bots. True language comprehension is in constant development, as is a customizable Flash interface. Transcripts of every bot's conversations are kept so you can read what your bot has said, and see their emotional relationships with other people and other bots.


HOME TO WORLDWIDE
AI CONTEST WINNERS



Bildgesmythe


1st Place, CBC 2012
Created by Prob123



Brother Jerome


2nd Place, CBC 2008
Created by Psimagus



Love Agent


4th Place, CBC 2008
By Bowchickawowers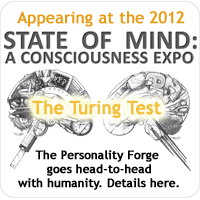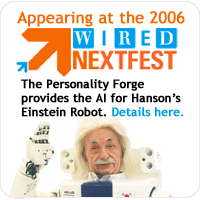 BRINGING CARTOON
CHARACTERS TO LIFE